What is the Family Support Services Program?
"I would like to express my appreciation to you for granting respite for my family. It's no small thing to be able to get out of the house for a breather.  I went yard saleing! First time this year. I drove around with my windows down and the music turned up. It may not sound like much, but I couldn't believe how good it felt. Thank you SO Much for making it possible!"
 ~New family to our Family Support Program
The purpose of the Family Support Services Program (FSSP) is to assist families who provide at-home care for family members with developmental delays or developmental disabilities. The goal of these services is to ease the financial and emotional strains of having a family member with special needs. FSSP offers limited financial assistance to those who are considered most in need and also offers information and referrals to additional supports for the families.
Family Support funds can help pay for the extraordinary costs of caring for a child or dependent with a developmental delay or developmental disability. The distribution of these funds is overseen by the Family Support Services Council that consists of family members, professionals and interested community members.
Family Support Funds
Family Support funds can be distributed on a recurring schedule or on a case by case basis. The Family Support Council and services coordinators determine how the funds are to be distributed.
Applications are given to families by the FSSP Service Coordinator or Case Manager.
New referrals can be made to Starpoint through the FSSP referral form or by calling a service coordinator or case manager.
Family Support funds are being used to pay for the Royal Gorge Rail Road "Santa Train" as a "Family Networking Event" to assist families who feel isolated or lonely due to their family member's special needs to connect with others who have similar experiences. We've had a lot of families interested in it so far and hope that they make the necessary connections on the train as well as enjoy a little family time to de-stress!
 I would like to say thank you to Family Support because they answered a Christmas wish for us. My husband and I have been wanting to take the kids on the Santa train for a few years but can't afford it. When I received the letter last week it brought tears to my eyes. I am so excited we can share the experience with our kids this year.
 Have a good day,
Amanda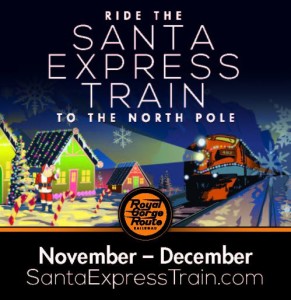 Family Support Reserve Funds
Family support maintains a reserve funding source for emergency situations that may arise throughout the year.
Applications can be requested and submitted through a Starpoint service Coordinator or Case Manager.
Prioritization of emergency requests is based on guidelines established by the FSSP Council. Factors that could indicate priority may include, but not be limited to, families with more than one child with disabilities, families needing respite care, significant medical interventions, limited financial resources, family stability and more.
Downloads
If you are interested in the Family Support Services Program or have additional questions please feel free to contact Starpoint at 719-275-1616 to assist you further.
Some great ideas have come out of the family support program recently to help families in need. The goal of the Family Support Program is to support families who have loved ones in their home with disabilities or delays.  We have a lot of individuals who travel out of town to see specialists for their various high need medical issues.  Often times, the family anticipates a routine checkup and the doctors find other concerns that require the families to stay overnight unexpectantly for additional testing. As you can imagine, this can be stressful for families and cause disruption and extra expenses in their lives.  In an attempt to alleviate a tiny bit of that stress we have created these "Emergency Overnight Bags" for families to keep in their cars for those unplanned stays.  We have used family support funds to purchase the supplies and have created a list of the families in the program that have frequent medical trips out of town and are most in need, as indicated by our Family Support guidelines and will be sending these bags to them.
It's a small token of support for families and we hope they find them helpful!